Air-Leak Test:

Suit is inflated and pressure tested for leaks in all seams valves and zippers.

Latex Seal Replacement:

Old seal is removed, sealing area is cleaned, and the replacement seal is installed.
Parts & Labor (One Wrist – Standard) $48
(Both Wrists – Standard) $80
(Neck – Standard) $85

Installation of Latex Dry Hood:

Latex dry hood is added to the sealing area of the existing neck seal. This may require replacement of existing neck seal.
Parts & Labor (Hood – Standard) $104

Installation of Hood Purge:

Hood purge is added to customer's desired position on the latex dry hood.
Parts & Labor $18

Installation of Relief Zipper:

A relief zipper is installed at a position agreed upon by the Technician and customer given it does not compromise suit function. Suit is then air tested.
Prices include parts & labor.

Zipper Replacement:

Zipper will be replaced either in-house or by manufacturer. Suit air test is required in either case.
USIA: $210 + $20 s/h
Viking: $430
DUI: $350 – $450
Apollo/Bare: $250
Whites: $340
Atlan: $375
OS System: $199
Prices include parts & labor.

Patch Holes:

Suit is air tested, holes are located, patched, then air tested again, etc.
$10/hole

Installation of Knee Pads:

Knee pads are installed at position agreed upon by the drysuit technician and customer. Technician will make sure that position allows for free movement of suit.

Installation of a Pee Valve:

Pee valve will be installed at customer's desired point on the suit. Due to the personal nature of this type of  valve, service is left to the user. Underwater Sports will gladly offer advice and recommendations.
$20 + cost of parts

Inflation/Dump Valve Replacement:

Valves will be replaced with new valves conforming to manufactures specifications.

Valve Cleaning and Overhaul:
Valves are removed from suit, cleaned, overhauled, lubricated, and tested. (Suggested Yearly)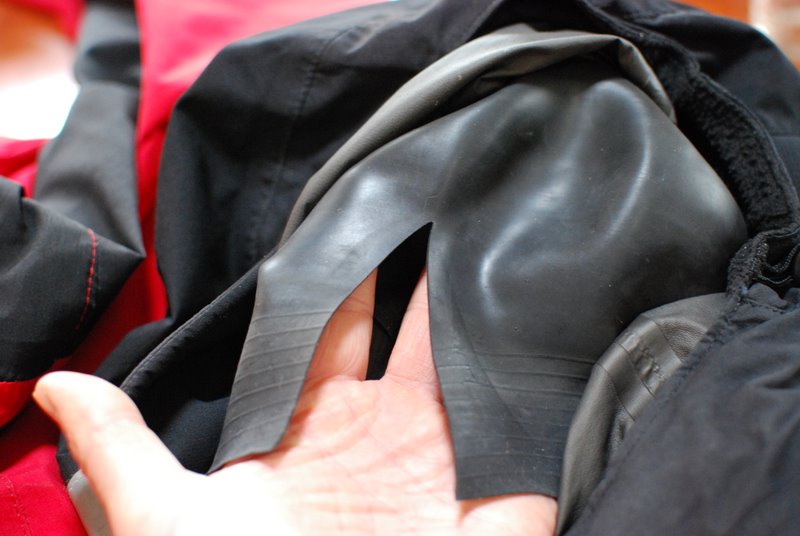 Send a message to get more information or schedule an appointment.