Going on Vacation? How about a referral?
The PADI Open Water Referral Course is a great way to get certified for those who want to dive abroad. Begin your dive training with us then get your certification while on vacation. Complete all your book work and pool modules here @ Underwater Sports, then complete your open water dives at a PADI dive center around your vacation location.  You don't have to spend your valuable vacation time sitting in a classroom. Your first dives can be in the beautiful warm blue water of Cozumel, Hawaii, or wherever your vacation takes you.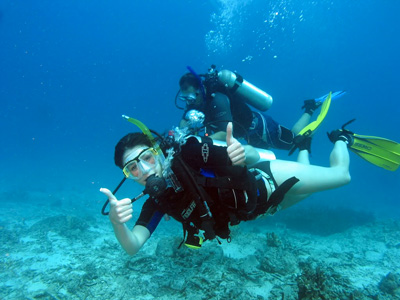 The major benefit of this course is to complete your dive certification while still enjoying your trip.
The Open Water Course is split into two sections: theory/pool modules and Open Water dives. The theory sections are based on home study allowing you to learn at your own pace. The modules are supported and reviewed by sessions with an instructor who can explain any areas in more detail. During the pool modules you will learn the skills to dive safely. The Open Water dives are done at a PADI Dive Center of your choosing at your destination.
---
Contact one of our shops for more information…
Hours of Operation
Monday – Friday 9:00 – 7:00p.m.
Saturday and Sunday 9:00 – 6:00p.m.
Contact Information
(206) 362-3310
(800) 252-7177
Address
10545 Aurora Ave. N.
Seattle, WA 98133
Hours of Operation
Monday – Friday: 10:00a.m. – 7:00p.m.
Saturday & Sunday: 9:00a.m. – 5:00p.m.
Contact Information
(425) 771-6322
Address
264 Railroad Ave.
Edmonds, WA 98020
– One block South of Edmonds Underwater Park
Hours of Operation
Monday – Friday: 10:00a.m. – 7:00p.m.
Saturday: 9:00a.m. – 6:00p.m.
Sunday: 10:00a.m. – 5:00p.m.
Contact Information
(425) 454-5168
Address
12003 NE 12th
#59 Brierwood Center
Bellevue, WA 98005
Hours of Operation
Monday – Friday: 10:00a.m. – 7:00p.m.
Saturday: 9:00a.m. – 6:00p.m.
Sunday: 9:00a.m. – 5:00p.m.
Contact Information
(253) 874-9387
Address
34428 Pacific Highway S.
Federal Way, WA 98003
– Just North of Secoma Lanes Bowling Alley
Hours of Operation
Monday – Friday: 10:00a.m. – 7:00p.m.
Saturday: 9:00a.m. – 6:00p.m.
Sunday: 9:00a.m. – 5:00p.m.
Contact Information
(253) 588-6634
Address
9608 40th Ave. SW
Lakewood, WA 98499
Hours of Operation
Sunday & Monday: Noon – 6p.m.
Tuesday-Saturday: 10am – 7pm
Contact Information
(360) 493-0322
Address
1943 4th Ave. E.
Olympia, WA 98506