Equipment Specialist Course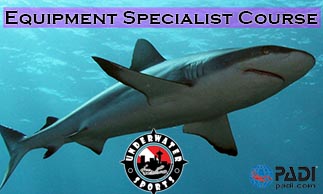 Don't miss a dive due to a scuba gear issue. Whether it's a blown o-ring, regulator problem, wetsuit tear or a broken fin strap, you can learn how to manage basic scuba equipment adjustments. As a PADI Equipment Specialist, you are prepared for the basic scuba equipment maintenance, care and adjustments you'll encounter every day. In addition, you'll learn interesting background information about how your gear works, how it's repair and other information that helps you with your equipment investment.
The Fun Part


The more you know about how your dive gear works, the more comfortable you are with it
Performance you get from it.
You can care for it
What You Learn


Review the theory, principles and operation of scuba diving equipment
Learn about routine, recommended care and maintenance procedures, and equipment storage
How to overcome common problems with equipment and recommended professional maintenance procedures (may include a demonstration of repair procedures)
Gain simple suggestions for comfortable equipment configurations and an introduction to new gear (may include optional confined water dive to try new or unfamiliar equipment)
Rescue Course:
The best buddy you can have is one who can manage themselves, prevent emergencies, and solve problems. The skills learned in this course teach you how to take care of others. Diving skills will be developed so that you are more self-sufficient and self confident in the open water environment. In the unlikely event a problem does occur, you'll be prepared to handle yourself and to assist others.
CPR/First Aid:
EFR & Refresher Course (Emergency First Responder) This course is for divers and non-divers! The new PADI Emergency First Response Program will provide you with the training necessary to respond as an Emergency First Response Primary Care (CPR) and Emergency First Response Secondary Care (First Aid) giver. Through independent study, classroom sessions and practice teaching assignments, you will learn the EFR program.
Oxygen Provider
The DAN Oxygen Provider Course provides entry-level training in the recognition and management of possible diving-related injuries using emergency oxygen first aid.
AED PROVIDER
More than 10 percent of all dive fatalities are actually caused by cardiovascular disease, according to DAN dive accident and fatality statistics. This course teaches divers and other interested parties to provide care for sudden cardiac arrest including the use of an automated external defibrillator (AEDs).